Are you singing the Billy Idol song yet? If not, What the heck is wrong with you?! How can you not hear that phrase and start your best lip curl impression of the white haired rocker?!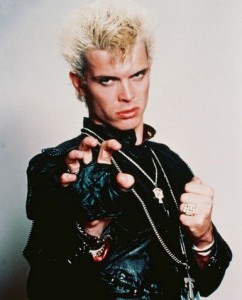 I did my fair share of humming this song over the weekend. The Scientist and I took a little field trip down to the great state of Connecticut to attend the wedding of my dear and wonderful friend, Priscilla. Those of you who I know in real life, this is my "P-Lo".
Priscilla and I have been friends for years now. She was my cousin's roommate in CT when I first moved there and we quickly became partner's in crime. Even after I moved to Boston we stayed close with visits and phone calls.
In addition to wedding festivities, I wanted to introduce The Scientist to my favorite restaurant in New Haven, Miya's Sushi.
Miya's isn't just a dinner. It is a total experience. You can't go to this place without expecting to be there at least a few hours.
We met up with Priscilla and her fiance, Jesus, and their friends, Carolyn & Jeffrey. As we were waiting to be seated we were treated by the host to some Pumpkin Miso Soup. Mmm. Warm and delicious.
The minute we were seated we ordered up some Tokyo Fro, some shredded potato with this amazing "special sauce" on the top. I can't even describe how light and yummy this app is. I gulped this plate down in 3 seconds flat. PR!
Since we had to wait for a bit for our entrees, our server treated us to the World's Best Salad.
We were also treated to some Sake Bombs! I wasn't drinking that night so I was given Ginger Ale and Cranberry Bombs. The last time I was there I had their Firecracker Sake and the Pine Needle Sake. Whoa.
One of our tablemates was a little sneaky and found something they thought might hold us over. Not quite what I was expecting for a night out.
Finally, the big deal arrived. I was super overwhelmed with all the choices so I went for the Bleu Plate Special. 10 pieces of unique sushi.
1. catfish blues roll– spicy tempura catfish with asparagus, black beans, apricots & scallions.
2. kraken roll– szechuan peppercorn seasoned tempura squid & scallions.
3. sweet natured kabuki girl roll– corn meal fried clams, avocado & cucumber
4. italian stallion roll- rare-fried tuna, new york mascarpone cheese, pistachios & orange marmalade (my fave!)
5. squiggly giggly roll- raw squid, dried bonito tuna, ume & japanese basil.
6. the best crunchy roll ever– roasted chili seasoned escolar in a herb seasoned crunchy roll.
7. romping with the goats roll– tempura tilapia, papaya, goat cheese & homemade african berbere mix.
8. water piglet roll– rare-fried tuna, goat cheese & cranberries.
9. chinese pygmy rodeo roll– seasoned potato skin stuffed with cauliflower & scallions, topped with melted danish havarti cheese, & drizzled with lemon dill aioli.
10. warm grapes falling on a happy head roll– grape leaf wrapped roll of eggplant, avocado, pickled radish, scallions, hot pepper & olive oil.
The bride-to-be and I were totally stuffed after we downed our whole Bleu Plate Special. Stellar work.
The last piece of the night came in the form of a complimentary Tempura Fried Ice Cream. Despite the full bellies, we all managed to stuff this down our gullets. Nice work kids!
By the time we were done I was ready to lay out on the table and take a nap right there. Is that socially acceptable?! Oh Miya's…how I love you and can't wait to return!
The next morning was a gorgeous day in the neighborhood. We headed over to the Westport Woman's Club for the big event.
The decorations for the wedding were simple, elegant and had a lovely Fall theme. I absolutely adored everything about it.
P-Lo's bouquet.
The ceremony was sweet, personalized, and just perfect for this couple. The Pastor gave a great speech about the "rules of marriage" and made everyone laugh.
After the ceremony, we headed into the other room to chow down. The room had the same fall theme and I loved the centerpieces. These are my favorite kind. I can actually see the people sitting at my table!
The First Dance was great. I have no idea what the words to the song playing were but I could tell it was lovely.
You would think that after years and years of Spanish as a teenager I would have picked up something! I'm a Spanish student embarrassment.
Priscilla's and Jesus' families made all of the food. It was a mix of classic Puerto Rican, Mexican and Costa Rican food. Holy yummness. I didn't eat it all because I don't do bacon, but P-Lo made sure to have plenty of veggie friendly options.
The Scientist made sure to try all of the meat items. Nice work buddy!
I made sure to eat plenty of these.
And lots of these too!
Oh, and I totally did a taste test on this little cupcake.
I danced with both the Bride and the Groom. I'm pretty good in my 4" heels. I love feeling tall, which isn't hard next to petite P-Lo.
Overall, a beautiful wedding for a wonderful bride and groom. I am so happy that I got to be a part of their big day!
Wishing you both happiness, laughter, and love for the rest of your days!