GOOOAAALLLS! I go through phases where I love setting goals and other times when I hate them. I've gone back and forth with posting my goals on my blog. Mostly because I tended not to meet those goals in the past. But since starting my weight loss adventure at the beginning of this year, goals have been one of the main keys to my success. For awhile they were just random thoughts in my head and then I finally started to write them down. Then I moved them to Instagram. And now we are here! I share with you to shame me into doing them. Heh. Kidding. Well, partly. If sharing my goals helps one of you stick to yours then it feels like we are in this together and that is all kinds of awesome! A little bit of shaming never hurt me either. 😉
So how did I do on my November goals? Not too shabby!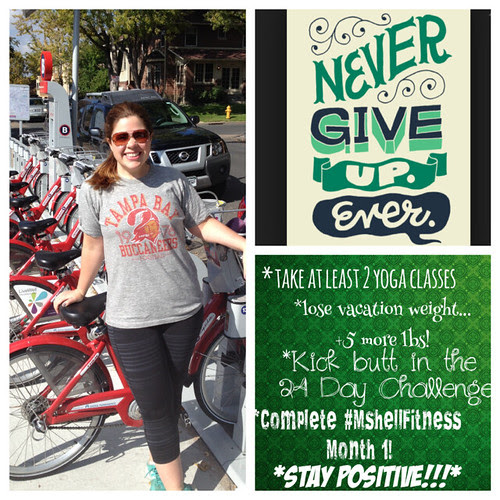 1. Take 2 yoga classes– YES! Of course it was exactly 2, but I at least met the goal.
2. Lose vacation weight +5 more pounds.- Almost! I lost the vacation weight and 3 more lbs! So close! But I'll take it.
3. Kick butt in 24 Day Challenge.- Uh No. I gave up! The clean eating part was no problem, but there is something in the vitamins/supplements that just does NOT agree with my stomach. I was in constant pain for a bit and quickly realized it was a few of the vitamins and one supplement in particular. We are talking about cramps that wake you up in the middle of the night sweating. This is not a fun thing to happen a few times a week. However! I did see several people really thrive on this challenge and I came away with a few Advocare product loves, including SPARK! Mmm…
4. Complete Month 1 of Mshell Fitness…again.- YES! YES! YES! I felt so much stronger this time through the plan and really like that each week is a bit different. I'm shocked at how much more I'm lifting then when I first started and I'm also really surprised to see how my body is changing despite not losing a ton of weight. I think doing the plan 2x through was really helpful in me getting the hang of the program.
5. Stay positive!- Eh. Besides my grumbly gut from the 24 day challenge, this was the hardest one for me. I'm missing my family. Big time. For some reason it hit me harder than ever before and it was rough. I was a depressed kid for a few days there and had a really tough time just getting through it. Fortunately, a really great Thanksgiving and a lovely BF helped me recover. Sigh…being an adult is hard, right?!
December is kind of a weird month. I am on vacation for a good chunk of it (yay!) and it tends to focus on celebrations with food and drink (yay?!). I want to enjoy the holidays with my family and friends, but I also don't want to start the year off 10 lbs heavier than I ended it.
December Goals
1. Workout while on vacation. Sounds easy right? Uh no. My parents house is like a nap trap. You walk in and I swear they are pumping tryptophan through the a/c vents. My Mom found me a gym that is close by that has a 1-week pass for visitors for pretty cheap. I'm thinking I will probably do this so I can stick with my MShell Fitness program. I started my second round yesterday and I'd love to be able to say I finished it by the end of the year!
2. Log into MyFitnessPal every day till Christmas. That means even if I indulge a little. If you are a tracker, I'm sure you know those days where you eat like crap for dinner and don't track it. You don't have that little button to say you are done tracking and you would weight "8,000 lbs in 5 weeks" if you ate like this every day. I don't rely on those numbers, but I do like to keep everything on track. MFP does that for me.
3. Drink that H20. I am a PRO at drinking water while at work. But on weekends? Forget it. Traveling?! HA! What is this water you speak of?! This time around I'm making it happen cap'n.
4. Get to bed by midnight. I have the worst sleep patterns of any grown adult woman. Seriously.
5. Relax! Yes, I have goals. Yes, I want to stick to them. But I also want to have a good time and enjoy the last month of the year. I don't want to be so focused that I forget to take time to just enjoy life and how great it is. 🙂
Have a wonderful rest of the week! I'll see ya soon for a weekly weigh-in!
PS. If you live in Boston, you should try to see A Christmas Story: The Musical. I went last night and it was too cute. It put me right into the holiday spirit!