Just a few days ago I was in Miami enjoying some warmth, sunshine and a little bit of humidity. Today it is snowing until it can't snow no mo'.
I'm all home and cozy riding the storm out. The crockpot is doing it's thing. Hot chocolate is steaming next to me. I'm working away on my computer. If I can't have warmth, this will work.
Despite having my wisdom tooth out and traveling for a few days last week I did have some good eats. Join me for a warm and toasty WIAW!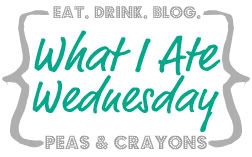 Everything I ate over the past week has been kind of soft. The first day this meant mashed potatoes from Whole Foods. I could seriously eat those suckers every.single.day. But my butt wouldn't think thank me. So instead I moved on to my
mock "
baked potato soup
".
It is really just pureed cauliflower and chicken broth. This dish is just so easy to make it's stupid.
After eating mashed potatoes and soup for two days it was time to head to Miami. Honestly, I didn't eat that much while I was out of town! There is a first for everything. Dinner the night we arrived was at Sushi Samba. I have been to a few of the NYC locations before and I found that their rolls were just a little overpriced for what you get. Instead I split a sashimi platter with a friend. It was a small amount of food, but just enough to get us pleasantly full. The fish was fresh and it was the right introduction into more solid foods!
I'm not a fan of eating before I work out so the next meal I had was on Saturday after our FlyWheel class. We had brunch around 2p (!!!) at Palace Bar.
I went with the Arepa Benedict.


Arepa bread topped with 2 poached eggs and chorizo topped with hollandaise sauce and pico de gallo. Served with homefries.
I decided to leave off the hollandaise and I kind of wish I hadn't. This was an extremely dry meal. Like can't bite through the bread tough. I also can't stand green peppers and the homefries in the middle were mostly peppers. How do people eat those things?! Frown face.
I was starving by the time we ate so I chowed down on the whole thing minus the peppers. It was a bit of a bummer. Fortunately, there was some sangria involved that made everything that much better!
By the time we were done playing out in the sun and on the beach I was in need of a nap. I am the queen of cat naps. But when I wake up? Whoa buddy. I will be starving. This time was no different.
We got all dressed up and headed out to dinner at IceBox Café, a restaurant that describes itself as being fresh, natural, well-balanced dining.
I was craving some seafood and Iron Skillet Sea Scallops caught my eye.

Sea scallops, miso broth, wilted kale, edamame, shiitake mushrooms
It pains me to say this but this meal stunk. The broth was quite good, but its kinda hard to mess up miso soup. There were only about 3 little sprigs of kale and 3 stems of mushrooms with the edamame. It was all bland, dry and had no flavor. I ended up throwing it all in the broth! I also ordered a side of roasted vegetables that was so pathetic I didn't take a pic. They were also thrown in with the scallops and broth. Since I live in Boston I am used to higher prices but for $29 I was expecting at least 4 smaller scallops or 3 bigger sized scallops. These were just average size. Nothing special.
On another note, the service at Icebox is THE WORST. Our server was extremely nice, but almost nothing happened. We ordered drinks and they didn't come till after we got our meals…30 minutes later. There was a bottle of wine that she was going to bring a chiller over to the table, but she ended up bringing it at the end of the meal. They were out of EVERYTHING. It just felt disorganized and there was no sense of urgency. It was frustrating.
The next day we at at the Shake Shack. I devoured my meal before anyone could ask for a bite or I could remember to take a picture. Imagine a mushroom burger and some fries. It was fantastic. 🙂
By the time I got home Sunday night I was in the mood for MY food. You know how that works. You just crave normalcy and not eating out. I went right back to my "baked potato" soup.
Only this time I got a little lazy with my food processing of the cauliflower and it came out to be more of a grits consistency instead of a creamy soup.
So ta-da! Shrimp n' Grits!
I'm back to eating almost anything I want now. Crunchy food are still a little tough but I'm getting there. I see a few more cauliflower creations in my future either way.
This might have sounded a little whiny, but my time in Miami was a blast. The food just wasn't anything to write home about. Bonus…I maintained my weight over the weekend. BOOM!
See ya soon!