Life has been a little hectic these past few weeks. In between a trip to Missouri to visit family and tons of work, I was packing to move and then actually had the move itself. I'm sure that every single one of us can agree that MOVING IS THE WORST.
I've kind of been using the whole "life is busy" to just eat random meals, go out to eat a little too often and kind of be a little lazy in the kitchen. Just at the right time the folks from JustAddCooking contacted me and asked if I was interested in giving their new 2-person/3-meal box a try. Groceries delivered to my house? Yes, please.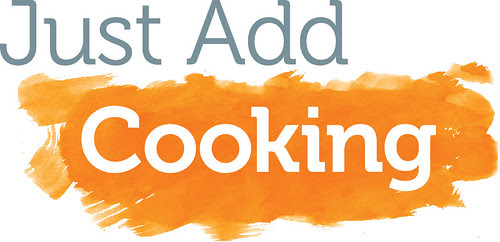 Just Add Cooking is a Boston-based company that creates "meal kits" that include fresh, pre-measured and locally sourced ingredients that are delivered straight to your doorstep.
There are 3 easy steps to get started:
1. See what meals are coming up for the next week.
2. Pick your size box (4 or 2 person-box & 3, 4 or 5-meals).
3. Start cooking!

I ended up picking 3 meals that sounded easy to make and perfect for a busy week. Mexican Cod, Couscous Marrakech and Quinoa with Shiitake Mushrooms.
The JustAddCooking website is pretty easy to use and makes choosing your meals for the week pretty easy. Each option is clearly pictured and includes all the ingredients that will come in your box, along with the instructions on how to prepare the dish.
This was particularly helpful for me when picking my meals because I needed a few dishes that didn't take too much time to prep and shorter cooking times. While I had plenty of fridge space for the box, I didn't have the time to actually make anything extravagant.
My box was delivered with all the ingredients, herbs, spices and instructions for the 3-meals that I had picked.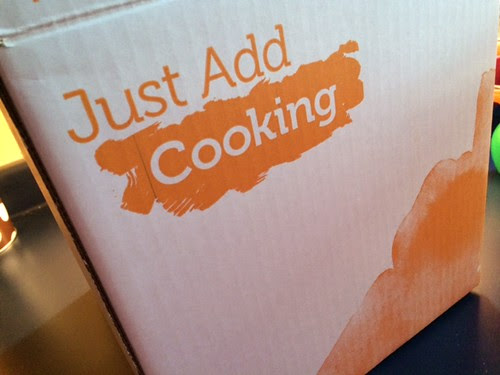 This included two envelopes that had separate instruction sheets for each meal and a all the spices & seasonings you would need.
These are all the bits and pieces for three meals. Everything is portioned out for exactly how much you will need in the recipe. Protein, fresh veggies, tons of herbs, portioned out grains and even some white wine.

A few nights before my big move I only had a limited number of things available in my kitchen. Most of goodies were all packed up! Based on JustAddCooking's order of cooking recommendation, I decided to try out the Couscous Marrakech.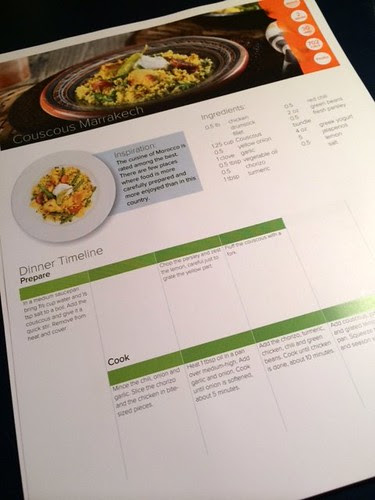 The directions are easy to follow since they are in a timeline form. All recipes should be set up this way! The prep is listed separately from the cooking portion and it goes in the exact order that you need to be doing thing. No more getting to the part where it says to add onion and you haven't done your chopping of onion yet so your pan just sits there all hot and smoky with no onion in it.
Speaking of chopping onion, JustAddCooking really does mean that you have to do the cooking. This is NOT a ready-made-meal service. They provide you with the onion you need, but you better be ready to get to choppin'. I actually like doing prep work, but I could see where some people might find this a bit tedious.
Just about 20 minutes later and dinner was served!

This dish had tons of flavor and was definitely not a recipe I would have ever picked out randomly on my own. I loved the addition of the fresh green beans, jalapenos, and chorizo. Delish!
Let's chat about portion sizes. The box that I had was meant to serve 2 people from each meal. I gave myself a generous serving since it had been a loooonnnng day of packing.

Even after pigging out on my part, there was still TONS left over. This dish was easily enough to get two dinners and a lunch out of. Which is exactly what I did.

A day later I moved and my household got a little fuller. The BF, Korky and I are officially in one house now (eek!). After the kitchen was put together I was pleased as punch to just pull out the recipe for the Mexican Cod and have everything I needed right at my fingertips.
This dish originally called for new potatoes (which they provided), but I decided to just add a side of mashed cauliflower instead. The sauce was so good I just smothered everything in it! Both the BF and I enjoyed the whole meal.
Final thoughts…
I really enjoyed my JustAddCooking box! This 2-person 3-meal box would normally cost me $79. That is AT LEAST 6 meals. Is it worth it?! On most occasions…yes! I like to grocery shop sometimes and I putting specific meals together. However, there was something magical about not having to go to the grocery store or measure a single thing out when I was in a time crunch. It was the perfect solution during an extremely busy week that could have resulted in more eating out and of course, spending more money.
This was also great way for me to try out a few new meals too. Often times I find myself eating the same thing over and over because it is what I have on hand without having to go to the grocery store or look for recipes.
We have a particularly busy week coming up soon and JustAddCooking will definitely be my solution!
Want to try JustAddCooking yourself?! Use code
SPRINGBLOG

for $20 off your first purchase!
Hope you guys are having a great week! See ya soon!
*NOTE: I was provided the JustAddCooking box for free. As always, all opinions and thoughts are my own!*