I'm pretty sure everyone has a bucket list vacation spot. A place that they want to visit but for whatever reason, money, time, location, they haven't quite been able to get there. For me, it was Australia. When I was a kid my Dad would entertain me every now and then with his Australian accent. He wanted to visit Australia so, of course, so did I! As I got older my desire to visit Australia got even greater. Then I met my husband and found out that Australia was his bucket list vacation spot too.
Bing. Bang.Boom….I WENT TO AUSTRALIA! We used our (extremely delayed) honeymoon as the perfect opportunity to spend a ridiculous amount of money to fly half way around the world and experience a country that, up until the minute we stepped foot off the plane, we had only dreamed about visiting.
But first? I got food poisoning the night before we left. I AM NOT KIDDING. I ate at the Whole Foods hot bar and I don't want to point fingers, but I'm pretty sure that was the culprit. I was miserable. From sundown to way past sunrise I was hanging out in the bathroom regretting ever stepping foot in that grocery store.
Friday morning, right as I was starting to contemplate calling in on our trip insurance, I started to not sweat as much. We made it to the airport and started our journey to Australia via Los Angeles . Do you know what is worse than hanging out in your own bathroom for more than 12 hours? Getting sick in an airplane bathroom. Ugh. Fortunately, the flight attendants were so nice and let me hang out at the back of the plane and sit near the cool air.
The flight from LA to Melbourne was 15.5 hours. Honestly, it wasn't that bad! I watched a ton of movies, some tv shows and walked around to keep my legs from cramping.
After more than 29 hours of traveling, we arrived in Melbourne at 9am on Sunday morning. We totally missed all of Saturday! It was worth it.
There is so much I want to remember about this trip and since this serves as not only my blog to the world, but also like a little journal for me, I'm going to get a little long winded. I'm just preparing you now.
Lets talk about the schedule and a bit of the planning strategy.
Our Australia itenerary was b-u-s-y. Our schedule looked like this:
Sunday-Wednesday Melbourne
Wednesday-Friday Ayers Rock
Friday-Monday Port Douglas
Monday-Saturday Sydney
For all but one stop, we stayed in an AirBnb. It was the perfect way for us to stay right in heart of the city and experience the neighborhoods like we lived there.
We flew from stop to stop. Did you know Australia was big?! I mean, I knew. But I don't think I realized how big until I asked about driving between two of our stops and they said it would take a few days. Uh. no. So we flew everywhere. Surprisingly it was really easy! Flying domestically in Australia is so much better than flying in the US.
When I was planning our trip I decided to plan one outing, planned activity or tour per stop and then at least another day for just doing whatever we wanted. Sometimes the best recommendations for things to do come from the locals you meet.
First stop…Melbourne!
A puppy friendly bar was our first stop after getting off the plane. Would you expect anything else from A Girl & Her Mutt?! We grabbed super cold beers and something bland to not aggravate my stomach. You can see how pale I was in this photo, but I was also SO EXCITED to be in Australia!  Plus, we got to chat with several locals and play with their dogs.
The husband fell in love with Melbourne almost instantly. I was still feeling a little iffy from my food poisoning so the 100+ temps made me not as much in love.
BUT! Melbourne won me over the next day when we did a tour of the Great Ocean Road. Gorgeous beaches, stunning views and some really cool landmarks.
One of our first stops was Bells Beach, home to the longest running surfing competition!

Check out that weather! After 100+ temps the previous day, we were happy to have an overcast and slightly chilly day. When the sun peaked out to say hello it made for some really great views at the beach.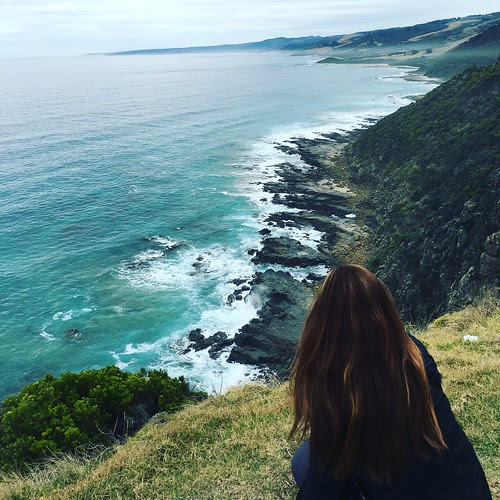 Maits Rest (a rainforest!)

As we were driving along we came across this little beach where people stack rocks. Who knew stacked rocks could be so cool?!
Koalas live in the wild in Australia, but according to the few people we talked with they don't make themselves seen very often. I have no idea how true that is, but we did get to see this little guy up in a tree on the side of the road. Those nails are something serious, right?!
Kangaroos in the wild! These suckers can jump.
We also saw a whole slew of birds that people were feeding and joined in. Honestly, birds freak me out. At one point I had two sitting on my head and they kept trying to pick at my head. Uh no. Shortly after this photo I ran away totally freaked out.
We were on a really small tour and our guide shared all kinds of stories about the road, including how it was built. The GOR was built by soldiers as they returned from WWI between 1919 and 1932. The road serves as the largest war memorial in the world.
As we traveled along the winding road we were treated to amazing  ocean views and some really great pit stops. The finale was getting to the 12 Apostles, a collection of limestone stacks that were formed because of some major erosion.
This spot was originally called the Sow & Piglets, but was renamed to the 12 Apostles to entice more tourism. Despite the name, there have only ever been 9 stacks until about 10 years ago when one of them collapsed.
We got the chance to walk down the beach and see two of them up close and personal. The walk was about a mile down the beach itself, and it wasn't the best weather in the world so at one point we were the only ones on the beach. It was one of those moments where you think to yourself, "How is this my life?! This is amazing!"

Because of how the stacks are arranged, you can only see one from the beach until you are almost right up on it and then suddenly a second one appears right behind it. It was like a little prize to us for making the trip down to see the stacks up close.
As we walked back down the beach to the starting point, the haze started to finally disappear and the sun started to come out a little. Pictures really do the lighting and views no justice.
A little bit further down the road, at a larger, more organized stop, we were treated to alternate views of the two apostles we had seen up close and view of the remaining stacks.
Our second full day in Melbourne was when the heat was overwhelming. The city is just fantastic, but I'm sure you can all relate to how tough it can be to enjoy trekking around a foreign city when you are sweating from every spot on your body.
We tried to hop from shady spot to cool air spot all day long. This included a trip to the Queen Victoria Market, the beach, and Old Melbourne Gaol (jail!).

Nights out in Melbourne were pretty chill and relaxed. We stayed at an AirBnB not too far from Southbank Promenade, which is a cool spot to find tons of restaurants, bars and people watching. I love feeling the vibe of a city during the day AND at night. We walked around each night just checking out the sites and finding bites to eat and drink. 😉
A champagne "food truck". Yes! This should be a staple in every big city! 
Speaking of eating and drinking, let's chat about food in Australia. When we first talked about going to Australia I realized that the only food that I knew was really unique to the country was Vegemite. And wine. Usually when we go some place new we try to find a food that is really unique to the area to try. I'm sad to say that, overall, the food in Australia just wasn't great. It was good. But not great. We enjoyed all of our meals, but mostly because of the atmosphere and company.
There were a few standouts, mostly during the next few stops on our trip, and I'm embarrassed to say that they are all junk-type food. HA! Totally out of my norm but we were so happy to find something so good!
The winners for Melbourne were smothered fries, pasta and a doughnut. Lovely. This is going to surprise you, but I came home 6 lbs lighter! 25,000+ steps each day will do that to ya.
Our time in Melbourne was a great way to kick off our trip and introduce us to Australia. Next stop…Ayers Rock!