Well, this should be fun. If you haven't noticed, my little weight loss ticker took a little jump. Oops. This What I Ate Wednesday will probably give you a clue as to why. I'm not worried. I weighed in on Tuesday right after we got back from San Diego (ha!) and I should have the pounds gained off in the next week. So with that in mind…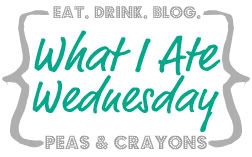 WIAW: San Diego Edition!
I was convinced that San Diego should be our vacation spot by the BF with the promise of tacos, refried beans and beer. I'm a HUGE Mexican food fan and could literally eat it for every meal. I have been low-carbin' it for the past few months so this was a huge treat for me! I'm including only the non-healthy but drool inducing bites for this round.
Pacific Beach Bar & Grill for Taco Tuesday! The shredded chicken crunchy tacos and fish tacos were sublime.
Brunch at The Cottage in La Jolla. I had the California Benedict with sliced turkey, avocado, poached eggs and hollandaise. I drizzled a little hot sauce over the top because that is the way I like to live. Although I enjoyed my brunch company, I thought the juice that I had (pom) was the highlight of the meal. My benedict was a little cold and the turkey a bit dried out. The hollandaise didn't have much flavor and since it was a little cold it had started to congeal. Eh. Not my fave benedict. I did enjoy sitting on the patio though.
Old Town is a must for any Mexican food lover when visiting San Diego. We decided to go with the majority of folks on Yelp and visited Casa de Reyes. We started with guac which had an interesting mix of radishes on the top. I actually loved the crunch and punch that it added. Definitely something I need to remember for my next guac batch.
For dinner I got the bean and cheese burrito "wet" style. Wet just means sauce on the top. I wasn't a fan of the flour tortilla so I ate the insides with the sauce. Mmm…refried beans are my absolute favorite food. There was a decent sized salad going on over there on the side of the plate but it was dwarfed by the extra jumbo burrito.
Near the end of our trip we took a little trip out to Oceanside to check out their beaches. Spoiler Alert: Not as nice as Coronado or Pacific Beach. While we were there we stopped at Breakwater Brewing for some lunch. It had a very relaxed beach bar type of vibe. We grabbed a seat at the bar and ordered up one of their beers and a pizza to split. The medium was huge! We had the Spicy Jerk Chicken pizza. Although I enjoyed the pizza, spicy this pizza was not. As a matter of fact, I didn't taste anything that remotely reminded me of jerk chicken. Good pizza though! The crust was delicious.
One of the last meals we had in San Diego was at a place in Gaslamp called Neighborhood . I didn't do my research enough so I didn't realize this place was a hipster's delight. No hostess. No ketchup. No vodka. I'm not really a ketchup fan, but any time people try to put down what others enjoy I get a little annoyed. I figured what the heck and put my own name on a chalkboard that I assume was the waiting list. We were seated pretty quickly and had a lovely server. The whole meal was pretty good, but what cracked me up the most was the Grilled Cheese Salad. We ordered this to split and for some reason we both thought that the grilled cheese part referred to something like cheese sprinkles or maybe some gouda on the top. We weren't expected an actual grilled cheese sandwich to be surrounding the plate. Heh. I like all the goodies in the salad, but I was a bit bummed out that it was so wet. I think I officially like all dressings on the side.
Are you worried about me after all that cheesy carb-a-licious food up there? Eh. Don't be. It was a one time deal. You know, until we decided to get drinks. 😉
There were $3 margaritas at Pacific Beach Bar & Grill.
Dueling Sangrias at Vin de Syrah in Gaslamp.
Beer tasters at Coronado Brewing Company and Ballast Point.
FYI…Ballast Point is awesome. They have a foreign export stout called Indra Kunidra that is out of this world. It has coconut, kaffir lime leaf, cayenne, cumin, and Madras curry spice to round out the crazy flavors in this beer. SO GOOD. I have to find this beer near me!
There was also some wine tasting, including a stop at The Wine Encounter in Hillcrest. Happy Hour included 1/2 off wine flights. Don't mind if I do!
We paired our wine with some mixed olives (which I have a hard time resisting anywhere) that also came with some nuts and fruit. Lovely little platter.
There was also a tour (and tasting, of course!) at Stone Brewing Co. I had their oak-smoked barley wine. I am a huge fan of barley wine and this one was super unique. It didn't have the super thick texture that I am used to, but the smokiness was just enough to make this drink stand out and be super drinkable. We also tried their Cask beer which was the IPA with honey, mint and chipotle peppers. Nope. Not a fan. Don't put mint in things. *Shudder*
Fear not my healthy friends. I had plenty of salads, fresh fruit, yogurt and other healthy options. I even managed to snag a veggie plate at a pizza place.
The next time I have a WIAW I will be back to my healthy and not quite as cheesy meals.
Until tomorrow!
{ 6 comments }