Happy Wednesday! Today is the first day where I am starting not to feel like I'm in an episode of the Walking Dead. I was strugglin' on Monday and Tuesday. Today I've almost sprung back to life.
Although I haven't given all my thoughts or a recap of the Blend Retreat in Park City, Utah from this past weekend, I wanted to talk about what I was eating. I've been pretty strict (for the most part!) about the food I've been eating since January. You know…except for the cruise and some that whole wine tasting experience. While in Utah I decided to just let loose and eat a few carbs. I'm a wild n' crazy gal!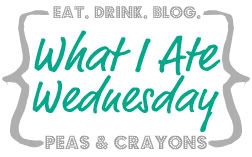 It is time for a What I Ate Wednesday…UTAH STYLE! Ironically enough, there was quite a bit of drinking too. Take that Utah and your weird liquor laws!
Nothing interesting happened with food until I arrived in Park City. I had been complaining earlier in the day that one thing that bugs me about Healthy Living bloggers is all the eating out at Whole Foods. I just had read a blog about someone that was in NYC and ate at a Whole Foods twice in one day. NYC! Seriously. Of course if you don't have a Whole Foods near you then a trip could be fun, but for those of us with 8 of them around every corner this just seems dumb to me. So naturally the minute I got into Park City we headed to Whole Foods to grab some lunch. Heh. Confession: It was quick and delicious! Don't tell anyone.
Fortunately when cocktail hour rolled around I was ready to go. Silk was the cocktail hour sponsor and had several drinks available to give a try. I decided on the Silk Strawberry Mint Slush, a mixture of Silk Unsweetened Almond, strawberries, mint, agave, lime and tequila. Just in case you weren't sure…yes, tequila is a food group.
The cocktail hour also had some cute little crudite to snack on. I love a good veggie app.
After some mingling and boozing it up, it was time for the main event. Dinner was buffet style with tons of options for veggies and meat eaters. I took a little of everything to give it all a try. The stand out for me was the quinoa cake!
You can't do a dinner with Blends without dessert. I tried a bit of the fruit tart and ate the whole Chobani Panna Cotta. Someone tried to get me to share, but I gave them a look that said "you are out of your mind".  Both were excellent!
I finished the evening off with a little vino and a homemade cookie while watching The Office with my roomies. Perfection.
The next morning I suffered through a GPP workout (another story for later this week) and then dragged myself to a Laughing Cow sponsored breakfast.
On the breakfast plate was a variety of fruit, a tasting of Muesli Fusion, and a few wedges of Laughing Cow to try on a gluten free bagel. Thumbs up to every item except that bagel. I felt like I was choking down cardboard!
I also had a sample of the BluePrint Green Juice. At first sip I was disgusted by the taste of celery and parlsey, but after a few sips I was on board. The ginger and lemon won me over. FYI…celery is disgusting.
A group of us felt the need for a good stretch after our bootcamp workout so we headed to a yoga class. We left refreshed and STARVING. We made a pit stop at a local brew pup, Squatters. I went for the Turkey Rueben (isn't it called a Rachel?!) and some potato wedges. I love sauerkraut so this hit the spot on a cold and rainy day.
I spent the remainder of the day hanging out and enjoying the fine city of Park City. We had a few local beers and explored downtown. This exploration included a taste of Wasatch Jalapeno beer. Oh boy. It went down rough and I ended up tasting it all night long. That was entertaining.
When dinner finally came around, we were ready for some sushi. We went to a place called Full House Asian Bistro. There was some theme song singing happening. My rolls for the night were both spicy and perfect. I like it hot.
I also tried a piece of my roomie's sushi. All pretty good!
Sunday morning was my last day at the Blend Retreat. I skipped out on the bootcamp and did some stretching (and wincing in pain) in the steam room. When it was time for breakfast we all headed down to a Chobani sponsored breakfast, complete with an omelet station.
I had an egg white omelet with mushrooms, zucchini, chicken sausage, onions and tomatoes. I also added in a little smoked gouda for fun. Gouda=Fun!
I also tried out a Chobani Bite in Raspberry with Dark Chocolate Chunks and a Blood Orange Smoothie. I had heard about the bite yogurt but not seen it in my stores. So small and cute but also quite tasty!
After breakfast we said our goodbyes and made our way back to Salt Lake City to catch a flight. On the way to the airport we made a quick break for lunch/dinner/dessert. Menchies! I've never been to this yogurt chain before but I loved all the flavors they had. I ended up with a mix of plain tart yogurt and green apple tart yogurt. On top I had my usual yogurt suspects of kiwi, raspberry, mochi and boba. I added two sour gummy worms this time around because I could. I LOVE sour candies. Seriously. LOVE. Why aren't there more foods that are sour?!
Once in a sugar coma I made my way to my flight and then headed back to Boston. After what felt like the longest flight in history, I was back at home where I belonged.
Utah, it was fun!
{ 5 comments }